China VMF 2018 Press Conference
This mid-October in Guangzhou, The 4th Asia-Pacific Vending Industry Association Summit Forum & China VMF 2018 Press Conference gathered up to 400 industry leaders at home and abroad from 250 renowned enterprises, trade associations, professional media, government apartments, etc, to together delve into the future development of global vending industry and wish China VMF 2018 a great success!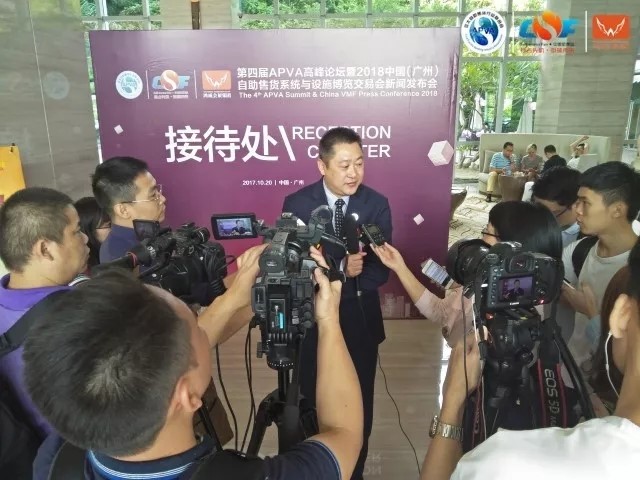 Experts Made Encouraging Predication About China's Vending Market
China's budding vending market was the most-talked-of topic during the conference. To prove what a promising land China is for vending, the organizing committee cited data from a vending industry report of Kantar which forecast that by 2020 the installed base of vending machines in China would reach 1.38 million, increased by eight folds compared with 2015.
Much rosy predication was made about Chinese market. For instance, during the media interview session, Mr. Yu enze, President of Asia Pacific Vending Industry Association (APVA) commented that the integration between mobile payment and vending machines is an irresistible trend; within the next 3-5 years, vending machines would be seen in more buying scenarios such as cinemas, apartment buildings, etc; and a richer variety of vending items including daily supplies, OTC drugs, stationary, etc, could soon be realized.
Industry Leaders Showing Supports to China VMF 2018
The fact that China VMF was able to put together such an impressive lineup of expert speakers for its new conference once again demonstrates what an influential trade platform it is favored by worldwide insiders! Altogether there were 20 experts from Malaysia, Japan, Australia, Taiwan, Mainland China, who shared with us their brilliant opinions through presentations and panel discussions which have helped spark many new ideas for present audience.